Welcome to Day 30 of Spooky Season!! The season is almost over!! Last year, I started a series of ranking the final words of the victims in the Friday The 13th franchise. Today, I'm continuing it with the victims of Friday The 13th Part 2! I made my ranking choices based on originality, repetitiveness, execution, and memorability. (WARNING: MAJOR SPOILERS!!!) Also, since Paul's (John Furey) fate is still unknown, I've decided for this specific article to exclude him. Enjoy!!
9. Vickie (Lauren-Marie Taylor)
"No! No! No! No! Stop! No! No!"
It drives me nuts! Repeatedly saying "no" and "stop" isn't going to get a killer to stop coming after you!
8. The Cop (Jack Marks)
"Oh, my god."
A genuine reaction of shock, unfortunately not really different.
7. Mark (Tom McBride)
"Vickie? Vickie, is that you? Vickie?"
I like that Vickie was the last thing on his mind (other than the machete). However, it was still very repetitive.
6. Jeff (Bill Randolph)
"Later, Scooter."
I like how his last words were a goodbye, but I'm not a fan of the nickname he had for Mark.
5. Scott (Russell Todd)
"Where is she?"
Another guy with a girl on his mind. It's better than repeating her name over and over.
4. Crazy Ralph (Walt Gorney)
"I told the others. They didn't believe me. You're all doomed. You're all doomed."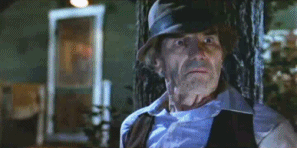 I hate knocking a classic Crazy Ralph line. However, he only got one line in the film, I'm kind of bummed it wasn't a little different this time around.
3. Alice (Adrienne King)
"Cute. You want something to eat?"
I don't know if Alice owned the cat she was talking to, but I think it's sweet that her final words were to help that little kitty.
2. Terry (Kirsten Baker)
"Scott, I'm gonna cut you down. But I swear, if you ever do this to me again, I'm gonna kill you. Scott?"
I just love the irony of threatening to kill a person who was already dead.
1. Sandra (Marta Kober)
"Jeff, don't wear yourself out. You want to wrestle, come with me."
I really love that these ended up being Sandra's last words. It's very original, clever, and I respect that she knows just what to say to get her boyfriend's attention.