Welcome to Day 14 of Spooky Season!! I'm back with another list of the best horror movie villainesses of all time! A good villainess can be cursed with being constantly underestimated. However, it could also be a gift, as these five women used it to their advantage! I hope you enjoy and let me know who you think should be added to the list! If you don't see your favorite here, be sure to check out my Villainesses Collection! (SPOILER ALERT!!!)
Ilsa – Ilsa: She Wolf Of The SS
One thing that's more terrifying than a psychopath is a psychopath with a purpose… and power. Ilsa (Dyanne Thorne) was an evil Nazi warden whose goal at her camp was to prove to her superiors that women could withstand more pain and suffering than men. To accomplish this, she mercilessly experimented on her female prisoners using various torture methods. She also took advantage of the male prisoners, and if they couldn't satisfy her, she took away their manhood, and forced them to live without it. She was cunning, ruthless, and unforgiving.
Kayako Saeki – The Grudge
Poor Kayako (Takako Fuji) had a very tragic life. When she was a young girl, her mother performed exorcisms where she took the the demons out of people and forced Kayako to consume them. Then she ended up in an unhappy marriage. When she found someone she felt connected to, it seemed she finally found some sense of happiness… until her husband found out about her crush. In a jealous rage, Kayako's husband broke her neck, drowned their son and cat, and hung himself. That violent murder left her a cursed but powerful soul – a soul that's now set out to make others suffer the way she did.
Dodger – Cry Wolf
Dodger (Lindy Booth) was a master at manipulation! After having an affair with her high school teacher, she found out he was sleeping with another woman. Heartbroken, she found a way to get revenge on both of them. Getting rid of the other woman seemed easy, but how she decided to get rid of her lover proved to be more complicated and patient. She and a new student, Owen (Julian Morris), created a fake serial killer to prank the school. However, Dodger made the rest of her friends turn things around and make Owen believe they were all being hunted by the real killer. Little did everyone know, Dodger was playing every single one of them.. and her plan worked! Owen was made to believe the teacher was the killer and shot him in "self defense." As a friend, Dodger was absolutely horrible. However, I have to give her props for how she dealt with that pedophile.
Marsha Quist – The Howling
Marsha Quist (Elisabeth Brooks) was the very definition of "leader of the pack." She was someone no one messed with! Her very entrance gave a "stop everything and look at me" vibe within the werewolf community. Whatever she wanted, happened. When Dr. Waggner (Patrick Macnee) built the community for werewolves to be themselves and live off livestock, Marsha was having none of it. She saw it as hiding from society. She was never a hider, she was a ruler, and she wanted the rest of the pack to see that. I don't respect her for being a home-wrecker and going after a married man. However, she was a strong werewolf who didn't even let anything, even a little fire defeat her, and I have to give her respect for that!
Santanico Pandemonium – From Dusk Till Dawn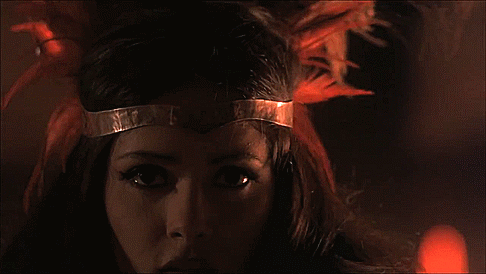 On the run from law enforcement, brothers Seth (George Clooney) and Richard Gecko (Quentin Tarantino) took a family hostage and headed down to a bar in Mexico to meet with their contact. There, they met the ever so enchanting Santanico Pandemonium (Salma Hayek). With her sexy, sleek dancing, Santanico filled the bar with stunned silence as all the patrons were hypnotized. Little did they know that she and the other performers were a gang of vicious vampires, and they were all trapped. Santanico was able to steal the room and destroy lives without breaking a sweat.