This was another series I wanted to start a long time ago. Christmas episodes of tv shows are just the best! They each provided their own unique storylines to one of my favorite holidays. Today, I share part 1 of my favorite Christmas-themed tv episodes! I hope you enjoy and let me know which episodes are your favorite! (POSSIBLE SPOILER ALERT!!!)
Family Guy – Road To The North Pole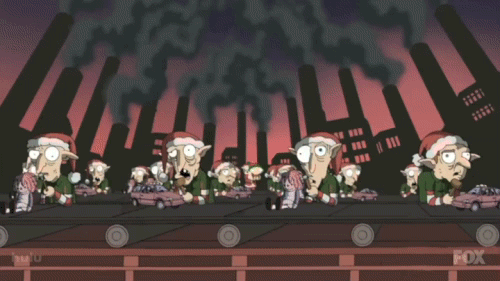 After getting snubbed by Santa at the mall, Stewie and Brian (Seth MacFarlane) set out to the North Pole for Stewie to exact revenge on him. However, once they got there, they realized that Santa's workshop was in great peril and it's up to them to save Christmas. This was a dark and hilarious take on the realization of what Santa and the elves would be put through every Christmas. The original songs are amazing and should be on everyone's Christmas playlist! I love watching Brian and Stewie try to do Santa's job. Plus, the intro with all the callbacks to the classic Christmas film was an especially nice touch!
American Dad – Season's Beatings
After a fight with Roger leads to Stan (Seth MacFarlane) getting banned from Christianity, Stan does whatever it takes to get back in. Meanwhile, Jeff (Jeff Fischer) adopts a young boy who may be the son of the Devil. This episode was a fantastic parody of The Omen! It had the perfect combination of the Antichrist spooks and American Dad humor. One of my favorite things about this episode is Roger's super helpful, enthusiastic persona. He can have a knack for doing messed up things, and I love the moments he's actually helpful. This was a hilarious episode that throws the Christmas genre on its head!
That '70s Show – An Eric Forman Christmas
During a depressive Christmas state, Eric Forman (Topher Grace) is volunteered to direct the church's Christmas play to regain the holiday spirit. Meanwhile, Kelso (Ashton Kutcher) is ridiculed for wanting to watch his favorite Christmas specials, and Red (Kurtwood Smith) is annoyed by his neighbor Bob's (Don Stark) Christmas decorations. This was another great parody that pays tribute to A Charlie Brown Christmas. It really was a tribute to a lot of the Christmas classics. The scene where Kelso dreams about Rudolph, Santa, and The Little Drummer Boy was wonderfully executed using the same stop-motion animation style. Plus, Red acting like the Grinch and trying to steal Bob's Christmas was very in-character!
South Park – A Very Crappy Christmas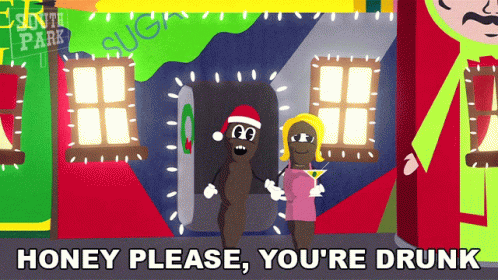 After the town of South Park loses the Christmas spirit, Stan, Kyle, Kenny, and Cartman (Trey Parker, Matt Stone) look to Mr. Hankey and his family for help. South Park brought such fantastic Christmas episodes, that I found it difficult which one to talk about first. I decided to pick A Very Crappy Christmas because it's one of the most underrated specials. I love how Matt and Trey mention how difficult animating the show used to be by having their characters attempt to animate their own Christmas special. I also love the backwards message about the most important thing about the holiday season being presents. I wish we got to see more of Mr. Hankey's family, the Lion King song parody was superb and hilarious!
Workaholics – The Strike
Ok, I know that this episode takes place in July and Anders, Adam, and Blake (Adam Divine, Blake Anderson, and Anders Holm) are technically celebrating Half-Christmas, but I'm still including it! When the trio are refused the right to celebrate Half-Christmas, Adam and Blake convince the rest of Telemaricorp to strike. I love how this episode still brings the Christmas vibe. It's so funny watching Adam and Blake struggle to understand how strikes and unions work. Plus, we get father and son legends, Rance and Clint Howard guest starring as Adam and Blake's replacements. It's a very unconventional holiday episode but it's still fun and festive!
Tales From The Crypt – And All Through The House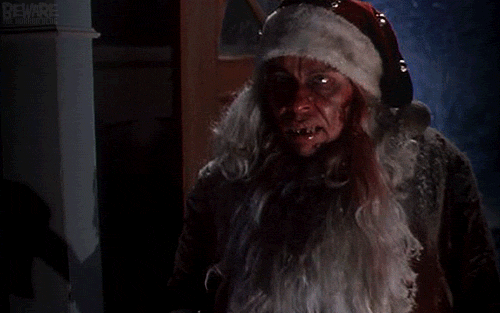 After killing her husband, a crazy wife finds herself targeted by an escaped lunatic wearing a Santa suit. It's a real shame that Tales From The Crypt didn't have more Christmas-themed episodes, because this one was so well done! Mary Ellen Trainor was mostly known as the innocent '80s mom. Her performance in this episode was so different and fantastic! I love how her character not only has to fight for her life, she has to figure out how to get away with her own crimes. Larry Drake really shined in this episode, he played a wonderful psychopath. This episode is a must if you love Christmas and horror!