Welcome to Day 13 of Spooky Season! For today, I decided to rank the stories in Creepshow 2. Last year, I ranked the stories in the first Creepshow, so I thought it would be fun to continue with the second film this year. If you'd like to see the first film's ranking, please click here! I hope you enjoy and let me know where these stories rank to you!
4. The Hitchhiker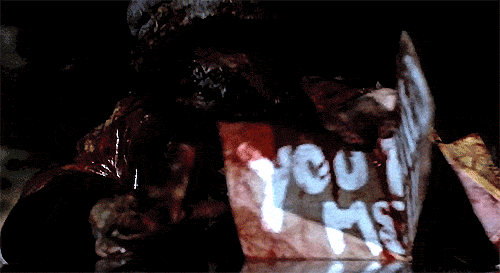 After losing track of time and rushing to get home, cheating housewife Annie Lansing (Lois Chiles) runs over and kills a hitchhiker (Tom Wright). When she thinks she got away with it, she soon learns running away from your problems isn't so easy. Although I love a good revenge story, this one just took forever. I love the dialogue and the acting! Lois and Tom were definitely the best things about this story. The reason it's dead last to me is I just hate a long chase scene. Especially after multiple watches, I realize how long it takes to get to the point and I find myself bored rewatching it.
3. Wrap-Around Story
In Creepshow 2's wrap-around story, young Billy (Domenick John) finds himself on the run from his neighborhood bullies, and he finds help in one of the most unlikely of places. I really enjoy the cartoon aspect, I think it was a nice comic touch, and it fit the Creepshow theme. At the same time, it just didn't really seem to fit in with the rest of the film. Plus, the ending kind of disappointed me. For a conclusion to the whole film, I just wish there was more to it.
2. The Raft
Four friends drive out to a raft that's in the middle of a lake. Once they get there, they encounter a strange blob that eats everything it comes into contact with. I absolutely love the concept of this story. It was full of shocking moments and a hell of a body count. The only reason I didn't put this story at the top is because the characters weren't very likable, especially the male characters. I found myself rooting for no one, especially on multiple watches. I was very happy with the ending, though! I thought it was very fitting.
1. Old Chief Wood'nhead
After a tragic murder of an elderly couple, a seemingly dormant Native American statue rises to take revenge against their killers. I LOVE a good revenge tale! I think it was perfectly executed. We get a chance to know the characters and care about what's happening to the point where every bit of revenge is satisfactory! The protagonists were sweet, the antagonists were excellently villainous and the ending was absolutely perfect! It was a wonderful start to the film!