Welcome back to Behind The Scenes Saturday!! This week's post is dedicated to the Tim Burton classic, Edward Scissorhands! Edward Scissorhands is a beautiful film filled with tragedy and disturbia. I hope you enjoy these behind the scenes pictures and fun bits of trivia!!
(Trivia provided by IMDb.com)
(Pictures provided by google.com and IMDb.com)
(SPOILER ALERT!!!)
This film was the start of the friendship between director, Tim Burton and Johnny Depp (Edward) as this was the first film they ever worked on together.
The neighborhood in the film seems very fantastical because it's meant to be seen through Edward's eyes.
The neighborhood was filmed in an actual community in Florida. Except for the exterior paint jobs, the community was completely unchanged.
The role of The Inventor was created specifically for Vincent Price. His part was supposed to be much bigger. Unfortunately, Price was too ill with Parkinson's and Emphysema, so most of his scenes couldn't be filmed.
Dianne Wiest (Peg) was the first person to sign onto the film. According to Tim Burton, she was the first one to read the script, completely support the film, and she was so respected in the industry, once she signed on, others later gained interest in the film.
Johnny Depp once stated that when he first read the script, he cried like a baby.
Caroline Thomson, the film's screenwriter, drew from her own life as she was writing the script. The character of Peg was based on her mom who used to bring home strangers. She also based the neighbors on the neighbors she grew up with as a kid.
To prepare for the role of Edward, Johnny Depp lost 25 pounds. He also refused any cooling agent while he filmed in the leather suit.
When Alan Arkin (Bill) first read the script, he was baffled and nothing really made sense to him… until he saw it brought to life on set. He later referred to Tim Burton's visional imagination as extraordinary.
Edward's crazy hairstyle was inspired by The Cure's lead singer, Robert Smith. Smith was even asked to provide the soundtrack for the film, but he was busy working on his album Disintegration at the time.
The film was originally written as a musical but that was scrapped.
During filming, Johnny Depp and Winona Ryder (Kim) dated in real life.
Kathy Baker (Joyce) saw this film as the perfect opportunity to break out into comedy.
According to Tim Burton, Johnny Depp threw up twice during filming. The first time was when he stuffed his face during the cook-out scene. The second time was when he was running down the street to evade the police. He got sick after filming the running scene six times.
Although they didn't share a scene together, this is the only film Vincent Price and his daughter, Victoria Price (TV Newswoman) were both in.
Edward was based on Caroline Thompson's border collie mix dog that she had in college.
Sean Astin, Christian Slater, Kiefer Sutherland, Keith Coogan, Crispin Glover, Wil Wheaton, Corey Feldman, and River Phoenix were all considered for the role of Jim before it went to Anthony Michael Hall.
After seeing him in Uncle Buck, Tim Burton wanted to cast Macaulay Culkin as Kevin Boggs (Robert Oliveri). However, Culkin was committed to Home Alone at the time.
Before Johnny Depp landed the role, Tom Cruise, Tom Hanks, Jim Carrey, and Robert Downey Jr. were considered for Edward. When Cruise was considered for the role, he questioned a lot of things, like how Edward went to the bathroom, or how he could live all those years without eating. He downright refused to be a part of the film because his questions wouldn't be answered. Gary Oldman also turned down the role and later regretted it.
It took about one hour and forty five minutes to apply Johnny Depp's prosthetic makeup and wardrobe.
Drew Barrymore was in consideration for the role of Kim Boggs.
After working with Geena Davis on Beetlejuice, Tim Burton wanted to cast her as Peg Boggs. Davis couldn't do the role because she was already working on Quick Change.
Rick Baker and Rob Bottin were both approached to do the makeup effects for the film. They both had other films they were working on and Stan Winston was brought on instead.
Before Alan Arkin signed on to play Bill Boggs, Dustin Hoffman, Harvey Keitel, Harry Dean Stanton, Tom Skerritt, John Saxon, and Roy Scheider were all considered for the role.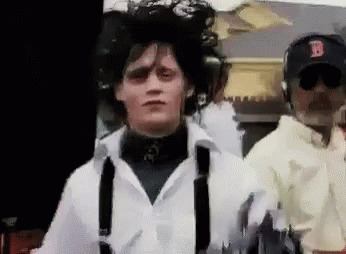 If Vincent Price was completely unable to do the role of The Inventor, Tim Burton was prepared to ask Leonard Nimoy to play the part.
Sara Gilbert was considered for the role of Kim, but she couldn't get out of her Roseanne contract. Along with her, Julia Roberts, Molly Ringwald, Lea Thompson, Alyssa Milano, Jennifer Connelly, Ally Sheedy, Heather Langenkamp, Elisabeth Shue, and Uma Thurman were all considered.
Not only was this Vincent Price's last movie before he died, his last scene was his character's death scene.
When Johnny Depp filmed the scene where Edward ran back to his house, he ended up collapsing from heat exhaustion due to the combination of the leather suit he wore and the extreme temperatures.