I know it might be a little late, but today I wanted to discuss my top 10 favorite movies released in 2022! I keep wanting to do it every year but I never get it done in time. I was originally going to do a Top 5 list, but there were just too many great ones that I couldn't bring myself to exclude. I hope you enjoy and let me know your favorite 2022 movie!!
10. The Bob's Burgers Movie
Synopsis (provided by IMDb.com): The Belchers try to save the restaurant from closing as a sinkhole forms in front of it, while the kids try to solve a mystery that could save their family's restaurant.
I loved this installment to the Bob's Burgers series. I was surprised that people didn't like the musical numbers cause I think they were well done and make perfect sense for the BB universe. That family sings every chance it gets! Overall, it was a great mystery that had me guessing every step of the way, and it had such heartwarming moments and a hilarious post credits scene!
9. Orphan: First Kill
Synopsis (provided by IMDb.com): After orchestrating a brilliant escape from an Estonian psychiatric facility, Esther (Isabelle Fuhrman) travels to America by impersonating the missing daughter of a wealthy family.
I was very fascinated by Esther's origin story. Usually with a prequel, you can piece together things and determine how it ends. I'm very pleased that this film still found a way to surprise me! This film was shocking, intense, and a great addition to the Orphan legacy! I also love that found a way to make the film work with the original actress, because I would've been super bummed if they recast her.
8. Clerks III
Synopsis (provided by IMDb.com): Dante (Brian O'Halloran), Elias (Trevor Fehrman), Jay (Jason Mewes), and Silent Bob (Kevin Smith) are enlisted by Randal (Jeff Anderson) after a heart attack to make a movie about the convenience store that started it all.
Never has a Kevin Smith movie hit me so hard! I loved seeing the Clerks gang return after almost 20 years. I thought it was spoiled for me and I knew what was coming but I couldn't have been more wrong! It brought everything I love about the franchise and tugged HARD at my heartstrings. It left me very emotional and it showed me how much I really care about and love these characters.
7. Hocus Pocus 2
Synopsis (provided by IMDb.com): Two young women accidentally bring back the Sanderson Sisters to modern day Salem and must figure out how to stop the child-hungry witches from wreaking havoc on the world.
It definitely surprised me how much I would come to love this movie. It had everything the first one did: hilarity, a killer dance scene, and an ending that makes me tear up every time I watch it. I loved learning more about the Sanderson Sisters, and let's face it, if they made a Sanderson Sisters prequel series, those three young actresses would kill it! I think this was a fantastic installment to the franchise, and if there was ever a new one, I'd watch it in a heartbeat.
6. Smile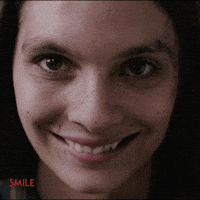 Synopsis (provided by IMDb.com): After witnessing a bizarre, traumatic incident involving a patient, Dr. Rose Cotter (Sosie Bacon) starts experiencing frightening occurrences that she can't explain. Rose must confront her troubling past in order to survive and escape her horrifying new reality.
Just when I thought I couldn't be freaked out by horror films anymore, Smile haunts my mind. I figured we were being treated with a brilliant marketing ploy for a mere mediocre film, but I'm very happy that that wasn't the case. This movie terrified me and brought me a compelling story. I was a bit disappointed with certain things, but they aren't enough to deter me from this movie because I simply can't stop thinking about it.
5. X
Synopsis (provided by IMDb.com): In 1979, a group of young filmmakers set out to make an adult film in rural Texas, but when their reclusive, elderly hosts catch them in the act, the cast find themselves fighting for their lives.
This film officially made me a fan of Ti West and Mia Goth (Maxine)! I wasn't sure I would be a fan of it but I now know it's a movie I can watch over and over again and never get tired of. I love the characters, I love how weird the story is, and you know I love a good old fashioned bloody slasher! I can't wait to see the rest of the series!
4. A Christmas Story Christmas
Synopsis (provided by IMDb.com): Ralphie Parker (Peter Billingsley) returns to the house on Cleveland Street to give his kids a magical Christmas like the one he had as a child, reconnect with his childhood friends, and reconcile the passing of his Old Man.
As I've said in my Top 10 Favorite Christmas Movies, I've was worried this film would be too different from its predecessor, but I was delightfully surprised! It didn't try to be just like the original, but it wasn't the complete opposite either. It's a heartwarming tale about passing on traditions and the importance of finding the good things in life, even when everything seems to be going wrong.
3. Chip 'n Dale: Rescue Rangers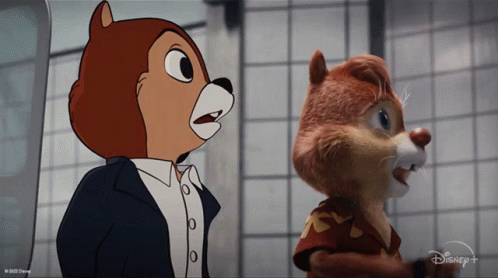 Synopsis (provided by IMDb.com): Thirty years after their popular television show ended, chipmunks Chip (John Mulaney) and Dale (Andy Samberg) live very different lives. When a cast member from the original series mysteriously disappears, the pair must reunite to save their friend.
Although I didn't grow up with the original Rescue Rangers show, it didn't stop me from enjoying and really appreciating the movie. This film brings its own multiverse for those who love nostalgia and the old cartoons they grew up with. It was absolutely fun, very meta, and the references are off the charts! It's really fun to watch it more than once just so you can catch everything.
2. Glass Onion: A Knives Out Mystery
Synopsis (provided by IMDb.com): Famed Southern detective Benoit Blanc (Daniel Craig) travels to Greece for his latest case.
Knives Out was hell of a mystery that kept me on the edge of my seat with every twist and turn. I believe Glass Onion not only met my expectations, it might've even exceeded them. It was fun, it was thrilling and it fooled me yet again, like a good mystery franchise is supposed to do! It was so well written, and you can tell how much effort was put into the story and characters. I'm hoping for many new installments, and I'll wait as long as I need to because I know it'll be worth it!
1. Bullet Train
Synopsis (provided by IMDb.com): Five assassins aboard a swiftly-moving train find out that their missions have something in common.
I'll admit, I didn't really have any intention of seeing this movie. It ended up not only being my favorite 2022 movie, it ended up being the one I watched the most out of all of films on this list, possibly combined. I absolutely love films that have characters with their own stories that interweave and connect for the bigger picture. Bullet Train also has a perfect combination of action and humor. It was very reminiscent of movies like Snatch and The Gentlemen.
Honorable Mentions:
Scream
Jackass Forever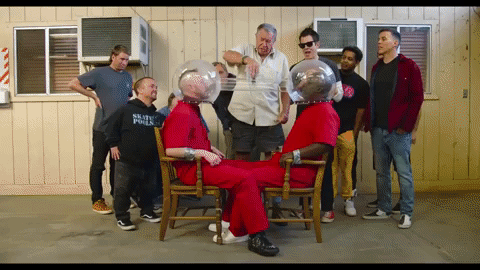 Hellraiser